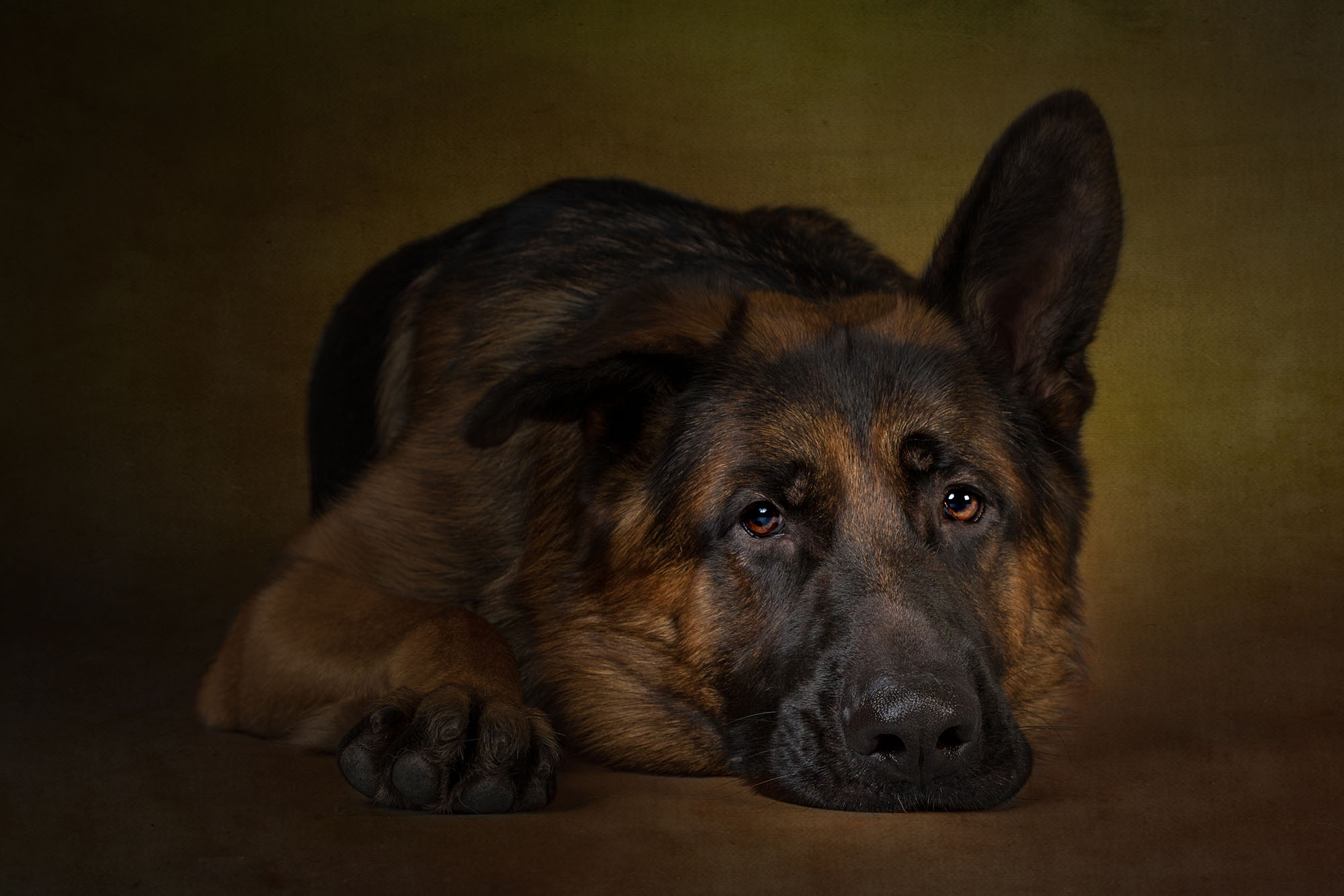 'Capturing Character' Pet Photography in our Wirral studio
Your pet is truly a magical part of your family with a personality all its own. Dogs are said to be man's best friend and we would definitely agree with that! Brosko our Doodle is a massive part of our family and can often be seen down at the studio when we are not shooting.
From puppy to old trusty companion bring your pooch along to our  studio for a solo photoshoot or as part of a whole family photography session. We specialise in capturing beautiful lasting memories of your family dog that you will be proud to hang on your walls and show off to your friends.

Pop along with your dog to the studio for a visit before the actual photoshoot. You and your dog can get familiar with the studio and it will help improve your experience for you both on the day of your shoot. Your dog can have a good sniff around. Don't worry if there is a little accident, your dog won't be the first. We have everything necessary to cope with small accidents in the 'pee' department. It may help your dog if you both go for a short walk just before coming into the studio. We are blessed with being based in the fascinating Poulton Hall Estate where there is plenty of space for your dog to have a little exercise before visiting.
Every dog has its very own personality and we create an environment to help capture your dog's unique characteristics. We make sure to not over excite your dog on the day of the photoshoot and we have plenty of treats to encourage cooperation. If your dog has any food allergies or intolerances please tell us prior to the photoshoot so we can make sure we have suitable treats. We make every effort to ensure your photoshoot is as relaxed and enjoyable as possible for everyone!
Large family shoot
Simon was amazing. We had a very rare opportunity to get the whole family together, for one day only. With 12 of us, and a dog, it could have been a nightmare, but Simon was calm, collected, and able to keep the under 1s and the over 90s equally entertained! The photos he took are… Read more "Large family shoot"
Ian Wilson
Studio
Dog Portrait
Thank you for a lovely experience with our star of the shoot, Bonnie, the golden retriever. Bonnie was made to feel extremely relaxed and content by Simon and he went at her pace so that she didn't feel flustered. We humans had a lovely experience too and it was great to see how the photographs… Read more "Dog Portrait"
Sylvia
Studio
Fantastic fun experience
We received a voucher for Christmas to attend the studio for a photo session of our lively 11 month old puppy and it was a very fun experience for both us as a couple and our pup. Simon made us feel really comfortable and was incredibly patient with our lively little puppy,meaning we got lots… Read more "Fantastic fun experience"
Debbie Hilton
Studio
Family photoshoot
We had a brilliant time at the photoshoot! Simon was great with our rather lively dog Marnie; we now have many, really lovely photos from the shoot on our walls. I'm certain we will be back for further photoshoots in the future.
Lauren Fryer
Studio
5 ****** Amazing Amazing Amazing
If I could give more than 5 stars I would!! I had a photo shoot with my 4 year old grandaughter and 8 month old pup, I now understand the saying 'never work with children and animals' Simon on the other hand was brilliant, totally professional, made the session fun for everyone and managed to… Read more "5 ****** Amazing Amazing Amazing"
Angela Capper
Studio
Customer service is a priority here in the studio. We will discuss exactly what you want from your professional photography session to ensure the results match your expectations. You can choose from our range of backdrops and props to enhance your dog's portrait session. We even have a 'green screen' backdrop so we can overlay a wide range of alternative backgrounds. We want your finished photo to look fantastic on the walls of your home. If required we will take additional close up shots of your dogs collar, mouth/nose and paws to give you the option of including these in a montage style image. Feel free to bring favourite toys, coats, and neckerchiefs to include in the selection of photographs too.
Once your photos have been professionally edited you have a choice of how you would like to display the art on your walls. You can choose from a range of digital and standard prints along with some beautiful 'wall art' options and we have samples in the studio to help you choose. There are lots of sizes so you can be sure to get the most suitable size for your home. All wall art is produced by Professional Processing Labs and framers to ensure it is of the highest quality with the best finish. Of course there will be a digital image for you to share across social media and to keep on your phone or use as your computer wallpaper!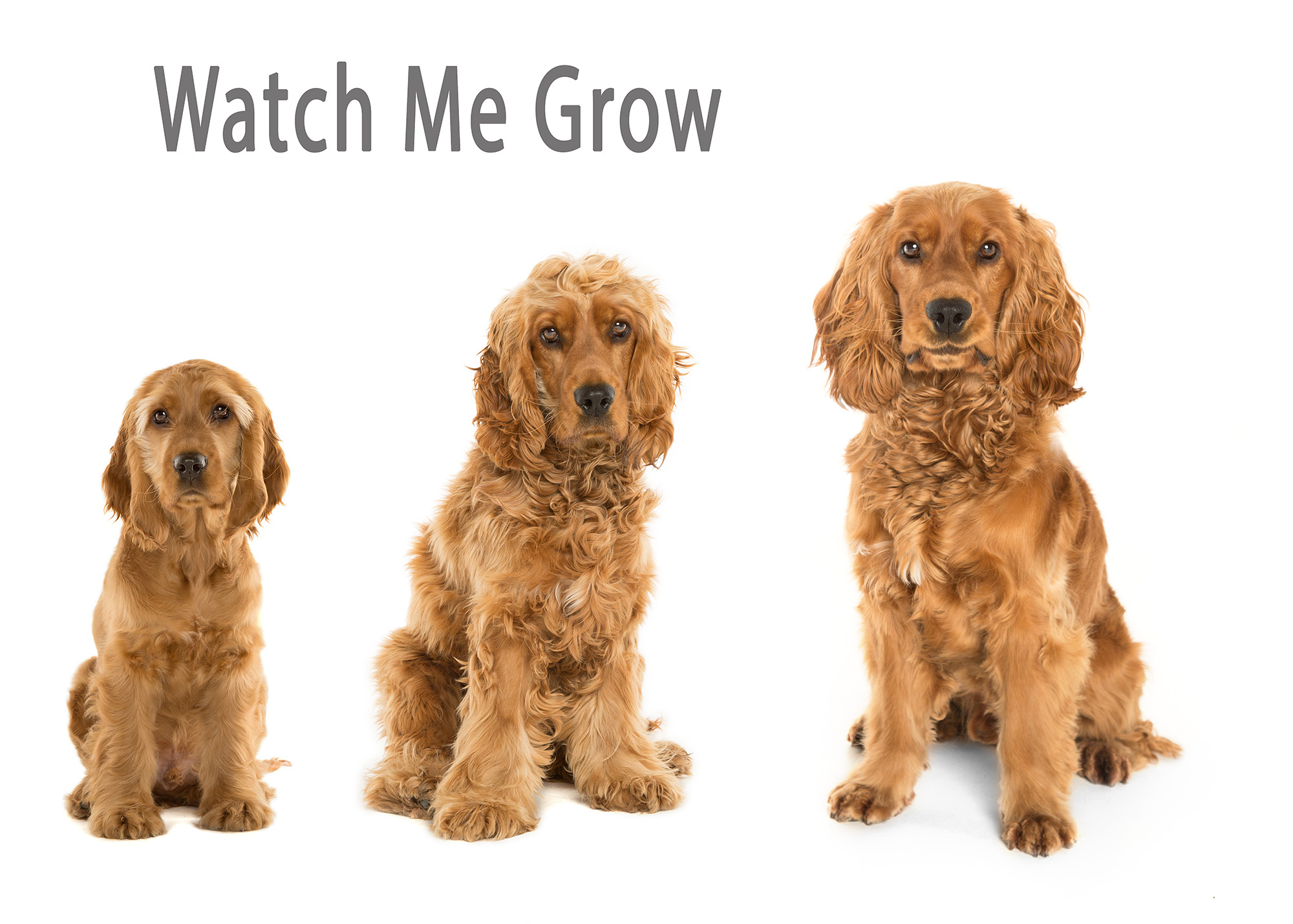 One of the styles we specialise in at the studio is the 'Watch Me Grow' Shoot. This is where we take 3 photoshoots over a period of one year from Puppy to young adult. Once your puppy has had its vaccinations bring him  to the studio to be photographed at 12 to 16 weeks, 6 months, then again at 12 months. We create a montage with each age so you have a record of how your tiny cute little puppy evolved into the beautiful adult dog they will become. They don't stay small puppies for long and this is a great way to capture that first year when they change so quickly and preserve that cuteness forever.
We also provide an 'End of Life' Shoot. When our beloved dog gets into their later years it is important to have a more relaxed session so that when they do cross the rainbow bridge you have that lasting memory of the faithful family friend they became. Our memories fade with time but a photograph can honour that faithful friend and keep them as part of the family for many years into the future.
We regularly enter our photographs into National Competitions, and have been lucky to obtain recognition and awards over the years. If you would like to enter your dog's photographs please let us know! 
For more details of any of our Pet Photography or to book your pet into the studio for a visit/photoshoot  then please call 07825221476/01513526190
Book your photo experience now
You can book online or give us a call
From bringing down your pet to bringing your whole family we want your experience in the studio for family and pet photography on the Wirral to be a memorable one. Please feel free to use our online booking system or you can call us on 07825 221 476
Book Now